Credentials and Experience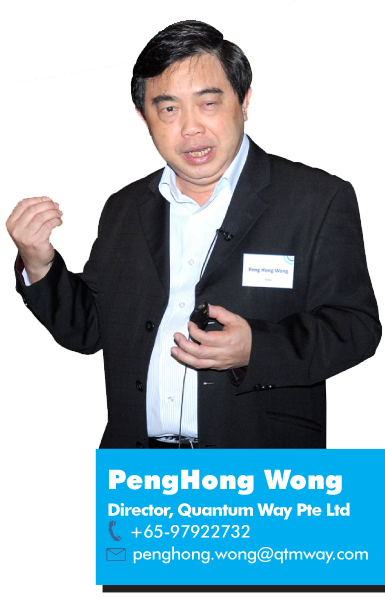 PERSONAL MISSION
To learn, discover, apply and teach the mind sciences for improving the quality of life (materially and spiritually) for mankind.
CORE COMPETENCIES
PengHong is a skillful facilitator and coach, often playing the role of the thinking partner effectively in consulting situations. The consulting sessions are enhanced with the use of proven tools and processes condensed from his corporate teaching and consulting experience over years. The main programs being offered include:
Leadership in implementing innovation
Building high performance team for innovation
Creating organization climate for innovation
Formulating strategies for innovation
Tools and processes for creative & innovative thinking
Leading Impactful Creative Sessions
Expected Outcomes for clients: achievements of any one or more of the following: New product introduction/Problem solving/Process improvement/Productivity improvement/Cost reduction/New business model formulation
EDUCATION AND CREDENTIALS
Master of science in Innovation by Singapore Management University (SMU), 2013
Bachelor in Engineering (Chemicals), by National University of Singapore (NUS), 1983
Graduate Diploma in Marketing, by The Marketing Institute of Singapore (MIS), 1987
Diploma in Marketing, by The Institute of Marketing UK (IMUK), 1986
Diploma of Master Trainer – Level 1, by Master Trainer Institute of New York, 2000
Diploma of Hypnotherapist by Banyan Hypnosis Center, 2005
Advanced Certificate in Training & Assessments (ACTAv5), Institute for Adult Learning (IAL), 2016
PROFESSIONAL EXPERIENCE
Peng Hong had worked with General Electric (GE) for almost 25 years, since September 1991. The initial 11 years being in commercial and sales when he was with GE's acquired water treatment business. He worked his way up from a district representative to a country leader before taking up briefly a role in technical support. After that he took up the position of Regional Training Manager and was responsible for the development of the commercial teams in the Asia Pacific, China and India in commercial and leadership skills.
The last position held by PengHong in GE was Customer Regional Director of GE Crotonville, and was responsible for providing GE's leadership education programs to GE's customers in ASEAN, India, Korea & Japan for more than 3 years.
PengHong left GE at the end of June 2016 and started his own company, Quantum Way Pte Ltd to offer training and consultancy services in leadership and strategies for innovation. At the same time he became one of the partners of Quantum Academy that provides educational programs an entreneurship to the small & medium seize enterprises.